Three Rental Forwards the NY Rangers Could Be Interested In
I can't quite recall a team to stand so prominently in the standings at Thanksgiving, yet have the hockey community so legitimately raise concern as to the team's sustainability in its winning ways. So while it might seem contentious to post an article poking around ideas for improving the team boasting a 16-3-2 record… there's merit.

GOALTENDING
There's no complaints here, no sir. The dynamic duo of Henrik Lundqvist & Antti Raanta has been absolutely lights-out, putting up a combined save percentage that seems destined to fall back to Earth.
How #NYR team sv% ranks vs best teams since '05: ('16 NYR – .944) '13 OTT – .933 '11 BOS – .930 '12 STL – .929 '14 BOS – .928 '11 VAN – .927

— HockeyStatMiner (@HockeyStatMiner) November 24, 2015
Seriously, anybody complaining about Rangers goaltending is just wasting time.
DEFENSE
Here's where it gets tricky. The stats don't look kindly on Dan Girardi or Marc Staal, just as much as their respective contracts are virtually immovable. To wit: Dan Boyle's contact also carries a No-Movement clause, so doing anything but retaining these three defenseman on the roster is practically impossible, short the player requesting a trade.
The defensemen that can be freely traded are the remaining foursome of Kevin Klein, Ryan McDonagh, Dylan McIlrath & Keith Yandle. Yet for a cap-strapped team like New York, these defensemen represent a good overall bargain: only 15% of the current cap ceiling.
In other words: unless there's a trade to be had involving an outsider, superbly bargain-priced blueliner to come back in return… there's probably not much to be done. For better or worse, it's highly unlikely there's a change in the top-six defense between now and June.
Which leaves us only with…
OFFENSE
No, the Rangers' 11.11% shooting percentage is not the complaint. But the lack of consistency, and perhaps veteran skill-set, outside of the Zuccarello-Brassard-Nash line, could be the point-of-improvement to focus upon.
Let's look at three forwards around the league. Keep in mind, the trio all share the following characteristics:
– All would be "rentals," as in acquired this season, but set to become unrestricted free agents on July 1st. Thus an acquisition would be just that: a rental.
– All currently find themselves on teams near the bottom of the NHL standings; while the trade deadline is three months away, there remains a good chance these teams will be out of the playoff race by then, and be "sellers" on the trade deadline market.
– All would be meant for insertion in the Rangers' top-three forward lines.
Let's get started: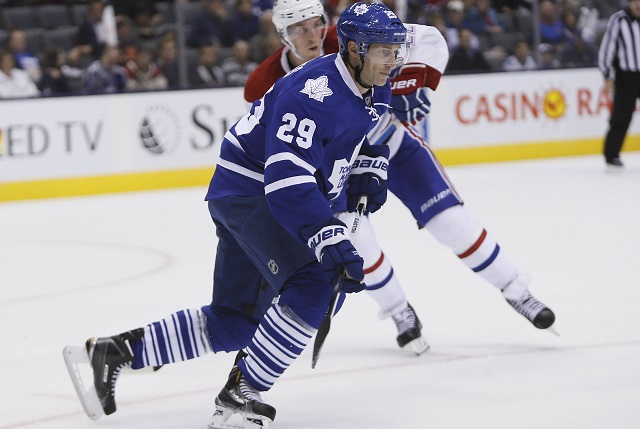 BRAD BOYES
For a player who had a hard time finding work in the NHL this season, including being looked over by New York… Brad Boyes of the Toronto Maple Leafs could be just the type of winger the Rangers could use. He will be an unrestricted free agent in 2016.
The Good:
– Despite the mess in Ontario, Boyes has an impressive +2.9% relative Corsi. In fact, his career stat is +1.2%. Toronto has used Boyes sparingly this season, as he's averaging less than 12 minutes per game. Should the Rangers be interested in giving him a shot to play with Derek Stepan & Chris Kreider, his offensive skills could be utilized while not requiring a ton of icetime-per-game.
– Boyes' cap hit is a very modest $700,000. This is something the Rangers can take on with no problem at all, meaning a draft pick could be all that's needed to rent him.
– Lest we forget, Boyes is the all-time shootout leader (44.3%) for those with over 80 attempts. While the tie-breaking skills competition doesn't exist in the postseason, Boyes could certainly be a wonderful weapon in accruing standings points between now and April.
The Bad:
– Boyes turns 34 years old in April, so it's no secret his production is on the decline. The Rangers biggest strength among forwards: speed, could take an overall hit with Boyes inserted in the top-nine rotation.
– Boyes' tough time finding work this summer should raise eyebrows. His stats sheet aside, some other far-more subjective attributes could be a potential negative here.
– If the Rangers acquired Boyes for a draft pick, they'd either have to trade a forward, or retain the NHL-maximum 23 players on the roster (including 14 forwards).

RILEY NASH
Riley Nash is a curious case, as he was NOT offered a qualifying offer in June, yet ended up re-signing with Carolina anyways. The 26-year old center signed a 1-year deal, and is slated to become an unrestricted free agent in 2016.
The Good:
– Nash won 50.9% of his 958 faceoffs taken last season, and has been a 16-minute center the past two seasons. This could allow Kevin Hayes to switch permanently to wing, without surrendering quality on the third pivot spot.
– His $1.15 million cap hit could theoretically be acquired without sending a contract the other way, making him very cap-friendly to the Rangers' very tight budget.
– Since October 2014, the Hurricanes have had a Relative Corsi of +0.742 when Nash is on the ice, versus when he is not. This suggests he could put up good production with linemates like Oscar Lindberg, J.T. Miller or Viktor Stalberg.
The Bad:
– Nash is off to a slow start this season. In fact, his point-per-game output had dropped 50% from last season, despite playing with legitimate forwards Jeff Skinner & Kris Versteeg.
– Even though Carolina is in the rebuilding stage, there's still the very probable reality that they'd ask more from the Rangers in return than with an out-of-division trade partner.
– As per usual with deadline rentals, the cost usually outweighs the product. Unless Carolina had interest in say, Emerson Etem? The Rangers would likely have to give up yet another draft pick and/or prospect to secure Nash's remaining six months of services.
– If acquired… how ugly would it be for him to have to wear 'Ril. Nash' on the back of his jersey while skating alongside Rick Nash? Yikes.
TEDDY PURCELL
Teddy Purcell, the former King & Lightning, currently plays wing for the Edmonton Oilers. While he's logged over 20 minutes in three of his last four games, the truth is when the Oil are completely healthy, Purcell is relegated to a bottom-six forward role (he's played more since the injury to Connor McDavid). Purcell becomes an unrestricted free agent in 2016.
The Good:
– Purcell has the versatility to play wing as a "compiler" on the top two lines, and could very well be the solution to the season-long Stepan-Kreider-??? equation. He played a lot of minutes with Tampa Bay forwards like Valtteri Filppula, Steve Stamkos & Ondrej Palat in his final year in Florida. And more recently, he's looked good playing with Taylor Hall since McDavid's absence.
– It's unlikely Edmonton will have much interest in retaining Purcell after this season, as spending money of defense will likely take priority over forwards. Thus, Edmonton may need little or no convincing in dealing Purcell in the first place.
– Since coming over to Edmonton in 2014, Purcell's Relative Corsi is +1.45%, meaning the Oilers do better when he's on the ice than when he's off.
The Bad:
– His cap hit is $4.5 million, which is roughly triple New York's available budget at the present time. Therefore the Rangers would need to shed salary in some fashion in order to acquire him. The only sensible contract I can think of would be a deal involving Kevin Klein, but it wouldn't be logical to actually do. While Edmonton would love a defenseman like Klein, and it would free up the proper cap space… I doubt the Rangers would rely on Dan Girardi & Dan Boyle to cover the time lost on the right defensive side with the departure of Klein.
– So, Edmonton would probably have to retain salary in a Purcell trade. As mentioned before, deadline deals are often pricy for the buyers… but the selling team eating money on top of it? I'm not sure if there's a feasibly amicable way for the Rangers to get Purcell, even though he would be a nice winger to add to the top-nine.