An emotional goodbye for Vitali Kravtsov
April 30th is an important date for Ranger fans this season. The KHL season officially ends and that means Vitali Kravtsov, Igor Shestyorkin, and Yegor Rykov are all free agents at the end of the day.
Vitali Kravtsov posted an emotional goodbye on Instagram, thanking the Traktor Chelyabinsk organization for the wonderful years he has had in the city he has called his home for the last 10 years.
I would like to say "thank you" to all who have supported me through the rough times, to all the fans and team mates. To all who have taught me what I know. I grew up in this city and I will remember the wins and losses, the dedicated support in the stands. I have met many great people in this city thanks to hockey. Thank you everyone, it was unforgettable.
Kravtsov moved to Chelyabinsk when he was just a kid while his dad stayed in Vladivostok, to chase his dream of playing hockey. Kravtsov and his mother moved in with his grandmother who lived in Chelyabinsk and Kravtsov has not looked back since. Adopting Chelyabinsk as his home, even on the ice wearing number 74 which is the regional code for the Chelyabinsk Oblast. With Kravtsov now saying goodbye, it seems certain he's moving to North America.
What's next for the two other Russian prospects?
Igor Shestyorkin's season ended when his team, SKA St Petersburg, lost to eventual Gagarin Cup winners CSKA Moscow. He did not receive an invitation to the national team and will be free to move this week. Last year, Shestyorkin represented the Russian national team after the KHL season ended.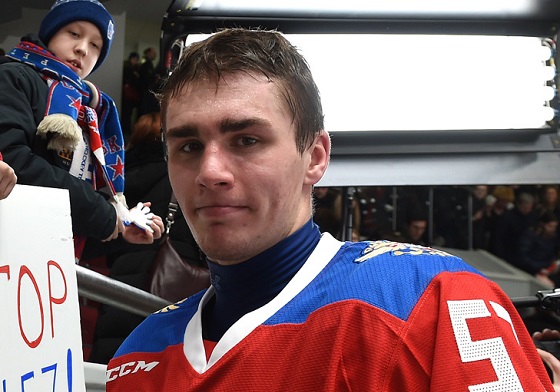 There have been reports about Kravtsov and Shestyorkin agreeing to contracts with the Rangers, but nothing is official yet with both players still under contract in the KHL. We expect an official announcement tomorrow for both the 19-year old winger and the 23-year old goalie. Yegor Rykov, who played for HC Sochi this season, has represented the Russia Olympic team (Russia B) after his team was eliminated from the Gagarin Cup playoffs and his final game with the national team was on Sunday. The defenseman has been linked with a move to North America but there have been no reports yet on him negotiating with the Rangers. With his contract expiring today, that could change.