Despite 10-2-2 Start; NY Rangers' Toughest Tests Have Yet To Come… In this article, I will be using the stat "Standings Points Percentage" [SP%] as my go-to reference. To clarify: SP% refers to the amount of standings points an NHL team has accrued versus the maximum amount of standings point that could possibly be won. A team 10-0-0 has a SP% of 100%, a 7-2-1 has a SP% of 75%, a 5-5-0 team has a SP of 50%, and so forth.

Since the Rangers have won 22 standings points out of a possible total of 28, their current SP% is 78.6% (22 divided by 28).
Got it? Cool beans.
In the 14 games played for the Rangers so far this season, their average opponent's SP% has been 49%. Or, in other words, the Rangers' overall competition thus far has been theoretically equal to 14 games against a team that's approximately 40-41-1.
However, looking at the remaining 68 games this season for the Rangers, the average future opponent's SP% currently stands at 55.1%. That's akin to 68 upcoming games against a team that's theoretically something like 45-36-1.
In other words, it appears the Rangers' season schedule will only get tougher from here on out. Based on the early-season NHL standings & data as of today, it's worth noting the Rangers have yet to play against most of the league's presumably "tougher" teams.
So far, against teams specifically with a SP% greater than 50%, the Rangers' record stands at 2-2-1. (Wins against Chicago & Washington, losses against Winnipeg & Montreal, and the overtime loss to New Jersey). Thus, against teams with a SP% of 50%-or-less, there lies the 8-0-1 meaty part of their early (and impressive) season record.
It's certainly a good bet that the Rangers' toughest tests are yet to come this season. Particularly, the month of February is shaping up to be a grueling collection of games. And of course, unlike the introductory month of the season, there will be more bruises, injuries and effects of fatigue to deal with then versus now.
Don't get me wrong; the 10-2-2 start to the 2016 campaign is truly worth feeling good about. Even going 8-0-1 against low-end teams, while hardly an insurmountable challenge, it nevertheless demonstrates a characteristic of any elite team: taking (nearly) full advantage of standings points in even the easiest of opportunities.
Rather than be a wet blanket, this article simply wishes to remind Rangers fans about the delicate art and appreciation of one thing: sustainability.
The Rangers are on-pace to accrue nearly 129 standings points over an 82-game sequence. Is that realistically sustainable? Almost certainly not. Such a season would blow the 2014-15 Presidents' Trophy winning Blueshirts away by 8 additional wins. Virtually impossible, our deepest fantasies aside.
What about goaltending?
Despite allowing the 4th-most shots per game (32) in the entire NHL, the dynamic duo of Henrik Lundqvist & Antti Raanta have put up a superb .951 save percentage. Purely remarkable. But, unless Lundqvist is prepared to shatter the cap-era goalie record books (a la Boston's Tim Thomas in 2010-11), we should be expecting a slowdown in the puck-stop department.
Lundqvist maintaining a .945 save percentage over 60+ games & 2,000+ shots is a nice dream. But, much like the Rangers accruing 129 points in the standings, it's basically just that: a dream.
So what's the good news?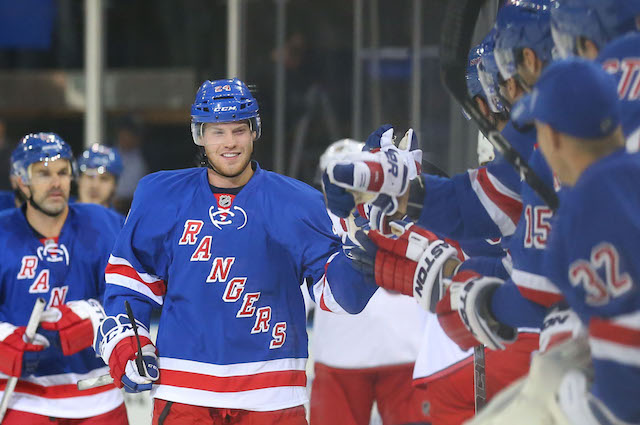 Well, the good news is the offense seems very sustainable, even though it hasn't faced much tough competition in opposing defensive schemes quite yet. The Rangers' scoring precisely 3 goals per game (5th in the NHL) is a sustainable figure, particularly considering:
A) The team scored 3.02 goals per game last season (3rd in the NHL).
and
B) Diversity. While the big story has been rookie Oscar Lindberg's surge in goal-scoring (as well as the Rangers being 6-0-0 when he beats a goalie), the spread-out nature of the team's offense is perhaps the bigger story. With Rick Nash (1 goal) & Chris Kreider (2 goals) off to underwhelming starts, the team has received well-rounded contribution from the rest of the roster. In fact, the Rangers last 9 goals scored have come from 9 different players! This seems like a wonderfully sustainable, encouraging characteristic.
Conclusion
There's no reason why the Rangers nor their fans should feel anything less than happy about the NYR season. But, we should all wait on the upcoming test results before getting absolutely ecstatic; it's a marathon, not a sprint. Some notably nearby contests to keep an eye on: this Thursday hosting the St. Louis "RoarBacon" Blues, as well as the Montreal Canadiens (Nov. 23rd) & Nashville Predators (Nov. 25th).
All signs seem to point towards the makings of yet another successful regular season for the New York Rangers, but it's important to keep in mind that a lot of the stripes have yet to be earned.
* * * * * * * * * * * * * * * * * * * * * * * * * * * * * * * * * * * * * * * * * * * * * * * * * *
Follow me on Twitter at @HockeyStatMiner for my constant update of NY Rangers musings!