FullTilt Mailbag: Free Agency
Hey! @ZakFTNYR here to answer your Rangers questions as we head into the start of free agency. We got some good ones via Twitter using the #FTMailbag. We at FullTilt are planning on doing this periodically during the coming season, so be sure to follow us @FullTiltNYRBlog on Twitter to see when the next one will be! Here we go!

Who could you see being potential pieces/targets in trade scenarios? – @_skjei

This is an interesting one because there are not a ton of high profile names out on the open market. There has been some speculation about Matt Duchene being on the trade block for a while. Duchene had his worst season as a pro in 2016-17, putting up just 18 goals and 41 points.

https://twitter.com/NicholsOnHockey/status/877956555655659520?ref_src=twsrc%5Etfw&ref_url=https%3A%2F%2Ffansided.com%2F2017%2F06%2F22%2Fmatt-duchene-rumors-avalanche-look-trade-star-forward%2F

Duchene is going to command a nice package if Colorado is to trade their number one center. He plays with speed, has a good shot, and plays with a bit of an edge. And as was written on FullTilt a short time ago, Duchene's downside would be his contract and cap hit. The 26-year-old is set to make $12 million over the next two years, with each year having a $6 million AAV. Right now the Blueshirts have the room to make that work, but when his contract is up at the end of the 2018-19 season, he's going to get a big payday. For this reason, it may not make sense for the Rangers to target him for anything more than a short-term rental.

Should the Rangers offer sheet Draisaitl or go after Shattenkirk? –

@mbecker2599

Funny you should ask that. Our own Michael Kaplan, otherwise known as Kappy, wrote a compelling case for offering Draisaitl. It's an interesting proposition, but you would essentially be losing one large contract at the end of next season in Rick Nash, and starting a new one (if Edmonton doesn't match) for Draisaitl. Jeff Gorton will never do it, as it can be GM suicide.

Shattenkirk is the most coveted defensive free agent this offseason and will certainly be toward the top of the Rangers list. The one thing with Shattenkirk, however, is the length of the contract he is going to want. Shattenkirk will be turning 29 during next season, and if he signs a deal for more than five years, there could be some "dead years" at the end of his contract. The Rangers have the room to spend a little extra money this summer, but they don't want to be stuck with another long and expensive contract.

Are Shattenkirk and Thornton the top two targets? – @Kreiderman20

If Shattenkirk isn't the top target for the Rangers on defense, they need to seriously reevaluate their priorities. The Rangers have a need on defense for a right-handed defenseman with offensive ability who can play opposite Ryan McDonagh. They acquired Anthony DeAngelo from Phoenix last week, but he is not ready to play first pair minutes. And with the PP needing a true quarterback, Shattenkirk would check off all the boxes for the Blueshirts.
Joe Thornton has received interest from all sorts of teams, from Cup contenders to some of the standing's bottom feeders. A lot of interest.

— David Pagnotta (@TheFourthPeriod) June 26, 2017
As for Thornton, I don't feel he is a top target, though he would be a nice addition at the right price. He turns 38 years old on Sunday and is coming off of a contract that saw him make just over $20 million in the last three years. Obviously, that is a bit rich for the Rangers, and for it to work with the Blueshirts, he'd have to take a massive pay cut. I believe Thornton will stay out west, either returning to the Sharks or signing with one of their conference rivals.
Why is Gorton so stupid? –@NYR_Shitposter
I don't really know how to answer this without proper context, so enjoy this gif instead.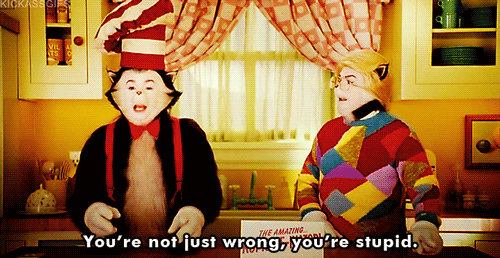 That's all for now. Make sure to follow us on Twitter @FullTiltNYRBlog for all of the latest and up-to-date news on the Rangers!