How Should We Benchmark David Quinn's Success
No two teams are alike. Unlike the NBA, the NHL is a league full of wildly unpredictable occurrences and outcomes. Each team is in it's own unique state that is unparalleled by any other. Sure, there can be multiple teams that are rebuilding, or multiple teams who are contenders. But the nature of these categorizations are incredibly different.
It is because of this that evaluating the success of coaches can be an extremely tricky thing to do. The Rangers are in a rebuild, along with multiple other teams. But the Rangers rebuild is drastically different than Buffalo's, or Toronto's recently finished one.
So therefore, NHL coaches must be evaluated based on their performance coaching their specific team, and not compared to coaches on similar teams.
If the Colorado Avalanche finished the season in the same position as the Rangers, would Jared Bednar be considered successful? What about Gerard Gallant and the Vegas Golden Knights? Of course not, it is all relative.
David Quinn must be judged with respect to the team's current position. For a franchise that has known nothing but being one of the best teams in the league for 15 years, this can be tough.
The Rangers didn't make the playoffs and weren't even close. David Quinn made some rookie mistakes and bad decisions throughout the year that may have raised questions. But we don't measure success on a perfectly even scale.
So far in this rebuild, Quinn has been very successful. Not because his team had a great season or made the postseason, because neither of those are true. But rather, because he established an organizational culture of hard work.
This is arguably the most important aspect of building a winning team. The organizational culture needs to be one of constant competitiveness, nightly battling, and extra effort. Why do you think some teams have been rebuilding for what seems like a decade? They don't have an acceptable organizational culture.
But just as each team is different from each one another, they differ from themselves on a year to year basis. Quinn's goal this year was not to contend. Would that have been a nice surprise? Of course. But that was not the main objective.
Will making the playoffs be the goal next year? Maybe, or maybe not. The thing about rebuilding is that the goal is always to improve, but you never know exactly when that will occur. No doubt, after next season the franchise's goal will be to reach the postseason.
This where that idea of relativity comes back into play. A coach's success is not measured against the success of the team, but rather whether or not goals were achieved. Quinn has built an excellent culture during the rebuild. He has been successful so far.
Some circles like to ask the question, "What if the Rangers were able to secure Jim Montgomery?" Yes, the Rangers were interested in Montgomery. But these two coaches ended up in very different places.
I've heard some say that the Rangers could've made the playoffs if they hired Montgomery. I mean, just look at the Dallas Stars, right? Wrong.
Dallas has a Vezina finalist goaltender in Ben Bishop, two elite forwards in Jamie Benn and Tyler Seguin, an All-Star rookie defenseman in Miro Heiskanen, and an extremely solid supporting cast of bottom-nine forwards. The Rangers have an aging Lundqvist and an up and coming star in Mika Zibanejad. It wasn't going to be enough.
Similar arguments have been made regarding Barry Trotz, who took the cross-town Islanders to the second round of the postseason. But when has Trotz ever coached a rebuild? Also, Trotz had Vezina finalist goaltender, a couple very good young forwards, and the best defense in the league.
Saying that Montgomery or Trotz would've brought the Rangers to the playoffs is like saying that a smoothie would taste the same with unripe fruit as it would with ripe fruit. It wouldn't. Either of these two coaches would've had similar seasons with the Rangers, because this team is just at a different place.
If next year's primary and obtainable goal is to make the playoffs and they do not, well then Quinn will have been unsuccessful. And all this is not to say that the Rangers were not trying to win this season, that is always the ultimate goal. But the focus this season was on competitiveness and culture, with making the playoffs being secondary.
So if that primary goal next season is to make the playoffs and the Rangers do, then Quinn is successful. It is so important to acknowledge relativity when benchmarking success. These things are also fluid. If the Rangers get off to and maintain a playoff start but then falter late, success can be reassessed at that time.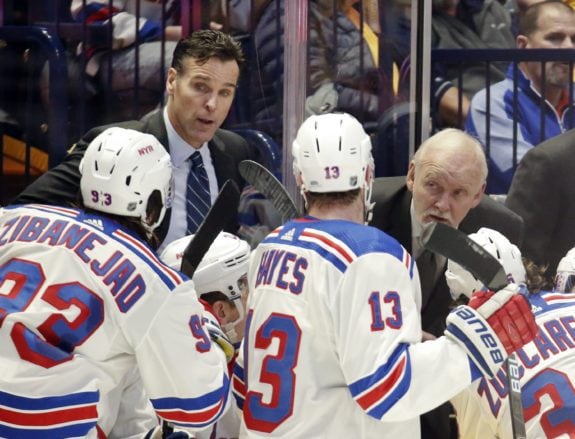 Now with all this said, winning when winning is not the primary objective does not make a coach unsuccessful, because winning is always an objective. But it is important to realize that rebuilds are multi-step processes.
Step one, from Quinn's point of view, was to build culture and instill an aggressive compete level, and he did both of those. So, as we continue to watch Quinn grow along with this team, we must remember that his performance should be judged based on the completion of team goals, and not where the team is in the standings.
Quinn's goal next season will be very similar to this season's. And if their compete level is fierce and the team puts forth the same effort, he should be judged as successful yet again. When the Rangers finally believe the postseason is in reach and that becomes Objective #1, then Quinn can be judged as unsuccessful if that is not attained.
Just as every team is different, so is each individual team on a yearly basis. We must remember to evaluate David Quinn based on team expectations, and not unrealistic personal biases. It is all relative.