Opening Faceoff: Rangers vs Canucks 11/26/17
On Friday
, a goalie duel led to an exciting 2-1 overtime win for the Rangers vs Detroit. Now the Blueshirts look for their fourth win in a row, and their eighth consecutive win at MSG, as they face the Vancouver Canucks. The Canucks come into The Garden after a 3-2 loss to the Devils on Friday but swept their Pennsylvania road trip by defeating both the Penguins and Flyers by the same 5-2 score. Vancouver is currently fourth in the Pacific Division, but are just short of a wild card spot sitting at 11-9-3 with 24 points, in 23 games played.
Keys To Victory
The Forecheck – Against the Red Wings, the Rangers were a tale of two teams. The puck either seemed to be pinned in their end, forcing Lundqvist to stand on his head or pressed in the Red Wings zone with Howard doing the same. In the bursts where the Blueshirts looked like they were on a 5-5 power play, it was because Detroit could not get the puck out of their zone. With speed and grit from guys like Grabner, Hayes, Vesey, and Kreider, each line has the ability to work hard and keep the puck in the offensive zone. With the Canucks alternating goalies in each of their past seven games, keeping the puck in their end and getting shots on net will set the tone for an offensive outbreak.
Four Lines Strong – We are lucky, as Rangers fans, to see some of our favorite names end up on the fourth line. And, it should be noted that not all NHL fourth line guys see 8+ minutes per game. When AV has confidence in rolling all four lines, we see results.
When asked about his fourth line AV said: "They were able to not just spend a few minutes on the ice, but get in on the forecheck, be physical when the opportunity was there, spend some time in the offensive zone and get some good looks." With Boo Nieves out and Desharnais in, let's hope the fourth line can keep up its productivity and allow the other three lines to do their jobs as well.
Stay out of the box (especially early) – Brendan Smith had two minor penalties in the first period against the Wings. And while the Rangers killed them both off, each happened just as the Rangers were getting their motor going. With a team that has seen some slow starts this season, staying out of the box is key to getting into a rhythm. They also killed two penalties in the third, but it was the second period where the Rangers really dominated with 16 shots and no penalties.
Players to Watch
New York Rangers
Chris Kreider –
After scoring the game-tying goal against Detroit, Kreider almost put himself through the glass and into the front row seats of MSG with a spirited celebration. You can see his strength, skill, passion, and chemistry with linemates evolving. It's something we've waited for, and after a career-best season in 2016-2017, all eyes are on the top line left winger to succeed. Cycling in front, and behind the net with Zibanejad and Buchnevich finessing some pretty puck work from the hash marks have all worked well for the Blueshirts. Expect Kreider to be very noticeable both in front of the net, and catching long breakout passes in the neutral zone.
Brady Skjei –
No sophomore slump here. It's been obvious that Brady Skjei has been earning his minutes. And, with the Captain out, those are top line minutes. Skjei has two goal and six assists this season, with three of those assists coming in the last two games. He was a strong offensive defenseman at The University of Minnesota, so watch for him to shoot more as his confidence grows. With McDonagh out, Skjei's success is beneficial to his development as a future elite defender in the NHL and "that's wassup."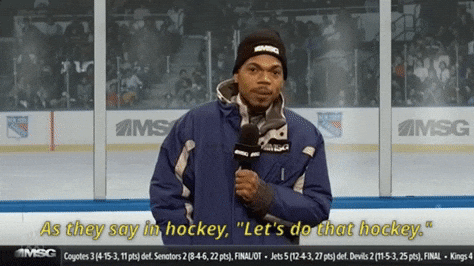 Vancouver Canucks
The Sedins – How can you discuss the Canucks and not keep an eye on the Sedin Twins? More so now than ever with a milestone within arms reach. In their last match, Daniel had two points in a 3-2 loss against New Jersey. Those two points were points number 997 and 998 as the 37-year-old left winger is only two points shy of 1,000. And, I'm sure his brother Henrik is anxious to help him get there.
Brock Boeser
– The 20-year-old right wing rookie has 11 goals and 11 assists in 20 games played. With those numbers, Boeser leads the Canucks in both categories and combined points. When discussing Boeser, the Calder Trophy talk isn't far behind. Maintaining this pace would put him near the 40-goal and 90 point range in his rookie year. The fast, strong, 6'1″ 191-pound right-hand shot cannot be left alone with time and space.
Puck drops at 2!
LETS GO RANGERS!!