Why no one should make a judgment on Lias Andersson yet
When the Rangers selected Lias Andersson 7th overall in 2017, fans were shocked, upset and/or disappointed, expecting them to pick Green Bay Gamblers center Casey Mittelstadt. The reports around Lias were that he was a low-risk selection and the NBC crew labeled him as most NHL ready. Did the Rangers make a mistake on draft day?
The choice
Both prospects turned 20 in late 2018 and are now playing in the NHL. But is it time to judge the draft based on what they have done in the past 24 months or is it still too early?
Personally, I like Lias Andersson. Not necessarily as a player, but having met him several times I can't dislike him. It is true that he has not lived up to expectations yet and there are some concerns surrounding his movement and skating. Does that make him a bad pick at 7th overall though? I'd say "not yet".
One common misconception is that teams are expected to draft a future 1st line player at 7th overall but looking back, history tells us it isn't that easy. We can basically divide them into 3 categories.
Bottom-6 or busts
When we take a look at who was drafted around that spot (6-9) in the salary cap era, we see players like Jack Skille, Devin Setoguchi, Gilbert Brulé, Peter Mueller, Sam Gagner, Zach Hamill, Mikkel Bødker Nikita Filatov, Scott Glennie, Brett Connolly, Alexander Burmistrov and James Sheppard.
On draft day, most of these guys were good picks. They were ranked in the range where their respective teams selected them but for various reasons, they did not turn into the players they were expected to be. This group represents 33% of the forwards picked in the range we are looking into, today.
Immediate impact
The 2nd group consists of players who made an impact in the first 2 years after the draft. Immediate impact is difficult to define, but for this article, I want to stick to players who made the jump to the NHL full-time in either their 1st or 2nd season after being drafted. Only a select few put up 50+ points as a teenager in the NHL.
When looking at players who made the jump in their D+1 or D+2 season, we see current Ranger Mika Zibanejad as one of the prime examples together with Jeff Skinner, Josh Bailey, Jakub Voracek, Sean Couturier, Sean Monahan, Bo Horvat, Nikolaj Ehlers and Pavel Zacha. All these forwards drafted between 6 and 9 made the jump to the NHL full-time in either their 1st or 2nd season after being drafted.
Development projects
There's a 3rd group which consists of players who were not NHL regulars in their first 2 seasons. Guys like Derick Brassard, Kyle Okposo, Mark Scheifele and Logan Couture spent 2 full seasons playing junior or college hockey after being drafted while Timo Meier, Nazem Kadri and William Nylander spent significant time in the AHL.
Despite all of these players drafted in the same range, their different paths to the NHL show that there isn't one way to look at it. Personally I feel the Rangers should have left Lias in Sweden to develop in his own environment. Having moved to South Africa at the age of 22 I understand the struggles of adjusting to a new culture at a young age. If that adjustment is then paired with some challenges along the way at work, it just increases the level of stress and makes it even more difficult.
I am sure some of our older readers remember what it was like to be 19 and how we thought we had it all figured out, only to realize 15+ years later that we were wrong. Lias moved from Sweden to the United States when he was 19, which is a big culture change. A new language, a new city far away from friends and family, feeling the weight of the sky-high expectations from the fan base weighing you down, it's tough.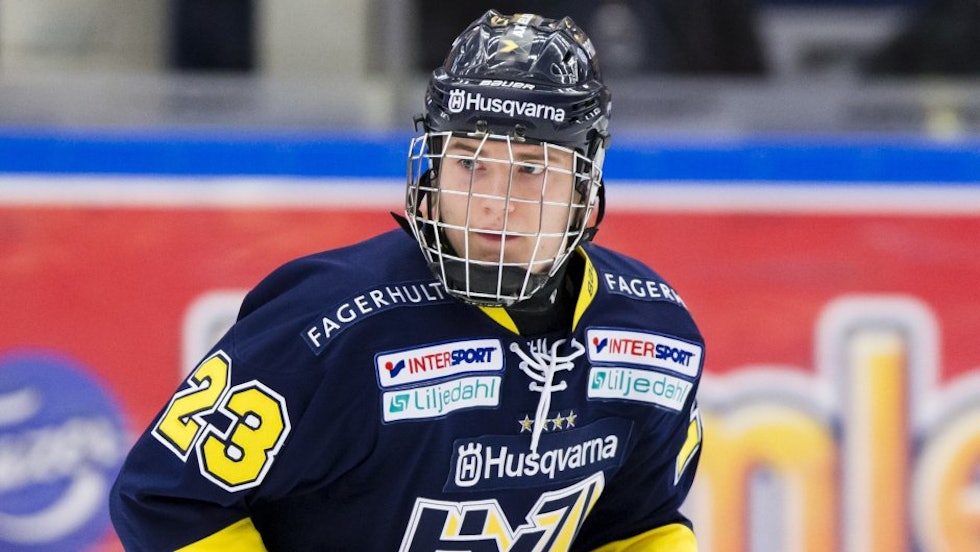 Where to place Lias
It is difficult to say to which of these 3 categories Lias Andersson belongs because he has only been playing in North America for 12 months. No one can predict the future, but looking at the past, it's certainly not set in stone just yet.
A lot can happen in the next 2-3 years and the players in group 3 are prime examples of that. The reason people do not remember Brassard, Couture or Scheifele struggling as a 19- or 20-year old in the NHL is because they simply did not play in the NHL at that age (aside from a handful of games before being assigned back to juniors.). They had a chance to develop at a lower level and entered the league in their 3rd or sometimes 4th year when they were further ahead in their development.
But what has Lias Andersson done to this point in his career? Why was he ranked in the 1st round? The short answer is "Because he was one of the top-30 prospects in his draft year". For a more detailed analysis, we have to go back to 2015.
Deep Dive
Lias played for the under-20 team of HV71 in Sweden as a 17-year old and was dominating all season long. He finished the season with 59 points in 37 games, which is the 2nd highest all-time in SuperElit by players under 18, ahead of guys like William Karlsson, Anze Kopitar, Elias Lindholm and many others. Clearly outgrown the SuperElit level, he played the 2nd half of the season with the senior team in the SHL, and was part of the senior team the next season for 42 games. The only games he missed were due to u20 international games. With 19 points in 42 Lias had a share in his team reaching the play offs and he was one of the better players in those playoffs that year to help HV71 win the Swedish championship.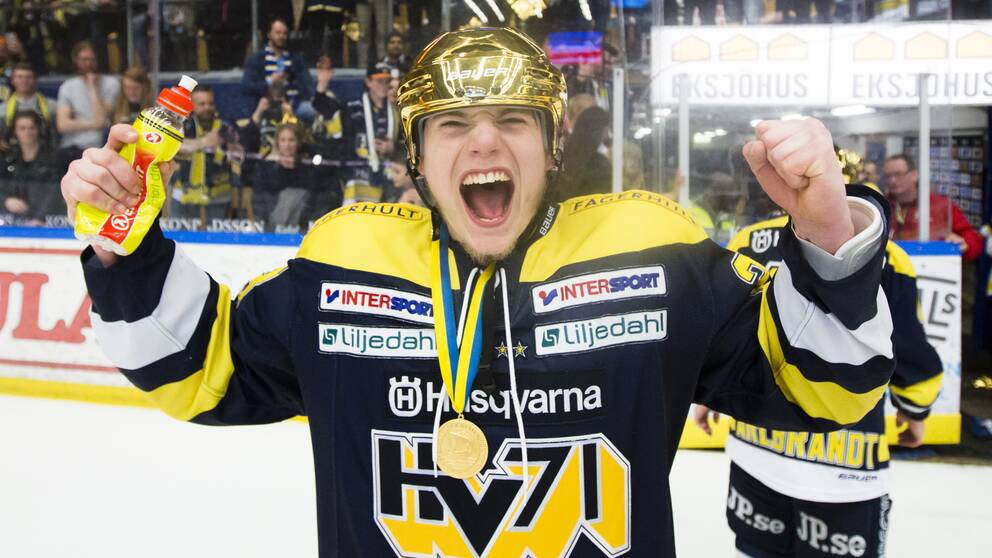 After being drafted in the summer of 2017, Lias returned to Sweden on loan to play for Frölunda, the team his dad played for when he was a kid. His production again saw a steady improvement with 14 points in 22 games in the SHL and 4 points in 7 games in the Champions Hockey League. Starting the season with number 24 like his father Niklas, who played in the NHL for the Islanders, Sharks and Predators, before him. The young Swedish center switched to number 61 on October 21st 2017 in a ceremony like no one I have ever seen before in my life. Frölunda retired number 24 in honor of Niklas Andersson.
Lias then captained his team at the World Juniors in Buffalo, where he was handed a suspension for the now infamous medal toss, played in Hartford with the Wolf Pack, and finished the regular season with 7 games for the Rangers scoring on his NHL debut against Washington. Swedish coaches liked him enough to earn a call-up for the senior national team to play in the 2018 Carlson Games, followed by the World Championships. His season ended in Copenhagen with the gold medal, having played 112 games across 11 different competitions and in 10 different countries.
At the start of this season Lias, still 19, competed with Howden and Chytil for a spot on the Rangers. The latter 2 got the nod over the Swede. This caused a lot of outrage again among fans but circling back to the beginning of this article: Did the Rangers make a mistake on draft day? I think it's too early to say whether or not Lias will be a top-6 or bottom-6 forward in the NHL going forward.
At the same time, I will admit that he has not impressed or met my expectations as a fan of him personally. I do feel however, that the positives in his game are often overlooked because he isn't that typical flashy prospect that just stands out with some amazing moves. Players like Lias Andersson usually take a bit longer to reach their potential. So far in his career, he has managed to adjust to each new level, and overcome the challenges that come with it. From J18, to J20, to SHL, to the AHL this season. His call up now is simply the next step in a long process to reaching his goal.
Lias is ranked 9th in games played among players from his draft class with 43. The talent is there, but it takes time for players to reach their potential. Does all this mean Lias will develop into a top-6 player? No. But at the same time I am confident in saying it is too early to judge him for what he is right now. If you aren't old enough to order a beer, how can you possibly be a finished product as a hockey player? Only time will tell.