Filip Chytil and Kaapo Kakko shine but Rangers settle for a point in shootout loss to Penguins 4-3
Filip Chytil razzled and dazzled in the goal that tied the game up at 1-1 in the second period. He had a stellar performance throughout the 60 minutes.
The game came down to the shootout. Surely David Quinn would give Chytil a shootout opportunity.
Nope.
Tony DeAngelo came out instead. And he couldn't keep the shootout alive as Tristan Jarry made the save. "The three guys we chose have a pretty good track record," David Quinn replied to a question about not trying Chytil in the shootout. "He was up next."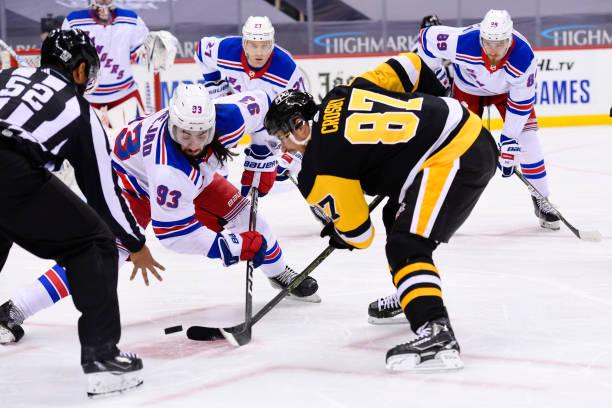 Chytil, Adam Fox and Kaapo Kakko all found the back of the net as the New York Rangers fell to the Pittsburgh Penguins, 4-3, in extra time on Friday night.
Igor Shesterkin made 26 saves on 29 shots faced, and made some crucial and impressive saves in the game's final minutes. On the other end of the ice, Jarry stopped 31 shots.
Rangers three goal blitz
After heading into the first intermission down 1-0, the Rangers managed to score three goals in a three minute span, as Chytil's stunning handles fooled Jarry for the game-tying score 2:41 into the game's second frame.
Then came the strikes from Fox and Kakko. And after a concerning start to the campaign, Kakko has now scored in two of the Rangers' last three games, having netted a score in the 5-0 redemption win over the Islanders last week.
Jared McCann and Teddy Blueger would score for Pittsburgh, sending the game into overtime and an eventual shootout.
Rangers Milestones
Artemi Panarin tallied a power play assist, recorded a goal in the shootout, and registered three shots on goal. Panarin registered his 100th career point as a Ranger while playing in his 73rd game with the team in tonight's contest (34 goals, 66 assists). According to NHL Stats and Information, he recorded his first 100 career points with the Rangers in fewer games than any other player in franchise history (Mark Messier was previously the fastest player to tally his first 100 career points with the Rangers – 74 games).
K'Andre Miller tallied his first career NHL assist/point, was credited with five hits, and posted a plus-one rating in 21:17 of ice time. Miller's ice time has increased from game to game through each of his first four career NHL games (13:59 on Jan. 14 vs. NY Islanders; 14:07 on Jan. 16 vs. NY Islanders; 15:10 on Jan. 19 vs. New Jersey; 21:17 tonight at Pittsburgh). Miller has posted a plus-four rating in four games this season, including a plus-five rating over the last three games.
Pavel Buchnevich skated in his 251st career NHL game and his 251st career game with the Rangers in tonight's contest, passing Fedor Tyutin for the fourth-most games played by a Russian-born player in franchise history. The only Russian-born players who have skated in more games with the Blueshirts than Buchnevich has are Alexei Kovalev (492), Sergei Nemchinov (418), and Alexander Karpovtsev (280).
Note: Milestone information provided by NYR PR
Post Game Notes
Each of the Rangers' three goals in tonight's game were scored by a player who is 22 years old or younger (Filip Chytil, Adam Fox, and Kaapo Kakko).
The Rangers were 1-for-4 (7:02) on the power play in tonight's game. The Blueshirts have tallied a power play goal in each of the last three games, recording four power play goals over the span (4-for-18; 22.2%). Adam Fox and Artemi Panarin have recorded a point on each of the Rangers' four power play goals thus far in 2020-21 (each player has one power play goal and three power play assists). The Rangers have had 21 power play opportunities through the first four games of the season, including 18 power play opportunities over the last three games.
Phillip Di Giuseppe tied a single-game career-high with two assists, led all skaters (and tied a single-game career-high) with eight hits, recorded a team-high five shots on goal, and posted a plus-two rating.
Filip Chytil tallied a goal and posted a plus-two rating. Chytil extended his point streak to three games (two goals, one assist), and he has recorded a goal in each of the last two games.
Adam Fox recorded a power play goal while skating in a team-high (and a single-game career-high) 26:02 of ice time. He extended his point streak to three games (one goal, three assists over the span), and all four points have been power play points.
Kaapo Kakko registered a goal and recorded two shots on goal. Kakko has tallied a goal/point in two of four games this season (two goals). He has recorded 12 career NHL goals, which is the most by any player who was selected in the 2019 NHL Entry Draft.
Editor's Note: Post game notes courtesy New York Rangers.
The Blueshirts will have a day off tomorrow.
Rangers next game is at the Pittsburgh Penguins on Sunday, January 24. (TV: MSG 2 7:00 PM ET)
Pierre-Luc Dubois on the verge of being traded?
The drama in Columbus may conclude as soon as tomorrow.