Rangers future on defense is a fun puzzle to put together
Anyone who has ever completed a jigsaw puzzle knows that it is largely trial and error, and that some pieces seem like they may fit even if they actually do not.
Similar to a jigsaw puzzle, Jeff Gorton and David Quinn are soon going to be implementing the same strategy of trial and error on defense. They will likely pick out a corner piece and build out from there, but the plethora of options spanning across the globe gives the Rangers more options than they have had in recent years.
Pieces to the Puzzle
The overflow of defensive prospects is promising for the organization, as they believe they're well on their way to building an offense as well, having drafted Vitali Kravtsov and Filip Chytil to go along with the offensive prowess of Mika Zibanejad and Chris Kreider.
Of course building a team isn't an ordinary jigsaw puzzle. It is more like 3 puzzles mixed in a bag but only one set is complete. Ultimately, not every piece is part of the final product. Some of these prospects will never be New York Rangers. Some will stay overseas, remain in the minor leagues, or find themselves trying to crack a different NHL roster.
But realistically what could the Blueshirts' defense look like as the rebuild moves on? Well, there are a few concrete answers to that. Kevin Shattenkirk, Brady Skjei, and Tony DeAngelo all have earned their spots on the roster for now. Consider them your corner pieces and next season will feature these three as the most solid aspects of the defensive corps. This may be good or bad, only time will tell.
What pieces fit?
Then there are some wild cards for next season. Will Neal Pionk be able to keep his top-six spot? What about the bloated contract of Brendan Smith or the flashes of top-six potential that Frederik Claesson displayed this season? How about the future of Marc Staal on Broadway? There are so many questions.
Like I said, Shattenkirk, Skjei, and DeAngelo will be around. Staal may be around too. In fact, if Staal stays he will most definitely have his name thrown into the ring to be the next Captain of the historic Original Six franchise.
As much as Claesson has looked like a relatively safe defenseman, chances are he will not be much of a factor next year. Even if he is re-signed, he likely will take a backseat to the younger guys that management needs to see more of.
Smith will still be around playing under that questionably high contract of his, but I expect the Rangers to bite the bullet and start him on the bench or in the AHL, despite the money they're paying him. He could also be traded at the draft for a mid round pick if the Rangers eat some salary.
Then there's Neal Pionk, who had an excellent start to his career at the end of last season. This year, not so much. He has notched a respectable amount of points, but his defense has been lacking. In the words fellow Forever Blueshirts writer James Van Casteren, Pionk is "an ECHL defenseman" at best. In fairness, as GM Jeff Gorton admitted, Pionk had been given too much responsibility in his first full year as a pro and it may have adversely impacted his play.
Finding the right piece
So then what is the Rangers defense even going to look like next year? To start off, those three guys mentioned first will be in the mix. Shattenkirk will hope to rebound after yet another difficult campaign, Skjei will look to keep up the momentum from his second-half bounce back, and DeAngelo will continue to lead on offense while managing to get under the skin of just about everyone in the league. Staal will still be in the mix, but will probably watch the game from the press box more often.
Enter Libor Hajek, who looked like a stud in just a few games with the team before injuring his shoulder. There's a good chance he will be in the top-six for most, if not all of next season. Hajek displayed an excellent ability to set up plays and move the puck while also staying back on defense. He is the perfect compliment to an offensive-minded defenseman like Shattenkirk or DeAngelo.
Ryan Lindgren will also see time next season, although he might get pushed aside a little in favor of Hajek. But Lindgren, who also looked solid in his brief Rangers stint, has earned some time for next season.
Then there is the wild card: Harvard senior defenseman Adam Fox. As reported by Pierre LeBrun earlier this week, Fox is not expected to sign with the Carolina Hurricanes who own his rights and has sparked interest from the Rangers. Furthermore, Fox grew up on Long Island rooting for the Blueshirts as a child. The latest news is that the Rangers and Hurricanes have been in talks, but Gorton and Co. may be more inclined to try to sign Fox when he is a free agent next offseason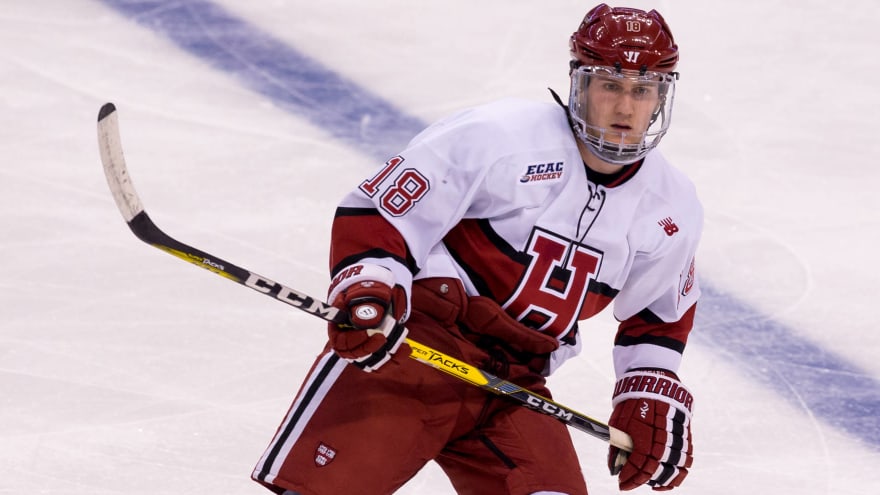 So there are two scenarios then. One including Fox, who has extremely high potential, and one without.
The Rangers starting defensive pairings may look like either of the two scenarios below:
Skjei/DeAngelo
Hajek/Shattenkirk
Staal/Fox
7th and 8th D: Lindgren/Pionk
Or…
Skjei/DeAngelo
Hajek/Shattenkirk
Staal/Pionk
7th and 8th D: Lindgren/Smith
The Bigger Puzzle
Obviously the eventual departure of veterans means the puzzle is not complete and has more pieces to fit. The above option do not solve the question of what our defense may look like a little further down the line. Within the next few years, the departure of Staal and Smith will open up spots. Shattenkirk will also see his time in New York conclude, either via trade or after the expiration of his contract, meaning a void must be filled.
Rising up in the ranks will be Yegor Rykov, K'Andre Miller, and Nils Lundkvist. Even Rangers prospects Nico Gross, Tarmo Reunanen, and Sean Day may be presented with opportunities. Although it isn't likely that Day will stick in the NHL, having spent time in multiple minor leagues. He was a kid with solid potential, but there are many better prospects in front of him.
One of the more likely final pieces is K'Andre Miller, who was arguably the most impressive freshman defenseman in the NCAA this season. He will find himself in the Rangers top-six in the coming years. Lundkvist, a good puck moving all-around defenseman should have a chance as well. Rykov will get his shot but may eventually be the odd man out.
Nico Gross is intriguing. The lefty defenseman looks like he may have the tools to make an NHL stint. Same goes for Tarmo Reunanen who has been tearing it up over in Europe.
So therefore, in terms of future defense, there is a world of possibility. Expect Miller, DeAngelo, and Skjei to be the faces of the defensive corps. Rounding out the bottom three will likely be Hajek, Lundkvist, and either Lindgren or Rykov. That said, do not be surprised if Rykov does not make it over Reunanen. The Finnish defenseman has been proving that he has a lot of tools to make it in this league.
Lindgren will certainly be fighting for one of those spots, likely spending time as the 6th or 7th defenseman for a bit. Of course, if Adam Fox comes to New York the story will change. My guess is that Fox will indeed put on Rangers blue and play in the Big Apple. If this is the case, our future defense should consist of DeAngelo, Skjei, Miller, Hajek, Fox, and Lundkvist/Rykov. Again, though, keep an eye on Reunanen.
The Rangers have done an excellent job in accumulating defensive prospects. As Glen Sather relinquishes his title as President, Rangers fans should rest easy knowing that he didn't leave the organization with nothing to be excited for. The future of the defense is pretty bright.