Vitali Kravtsov is ready for the new season
With all the talk about Adam Fox and Kaapo Kakko, it seems like Vitali Kravtsov's arrival has been overshadowed a bit. But the 19-year-old winger has the talent to take the league by storm this upcoming season. On May 21st, the ninth overall pick in the 2018 draft left Vladivostok and said goodbye to his father to travel to North America and settle in. His contract will start on July 1st, and Kravtsov is determined to make the most of his first season in New York.
He finished the KHL season with 21 points, despite his team only scoring 79 goals in the games he played in. That resulted in a goal contribution of 26.58%, which is higher than Eeli Tolvanen, Evgeni Kuznetsov, Vladimir Tarasenko, Artemi Panarin and Kirill Kaprizov in their D+1 season. With the (likely) addition of Kaapo Kakko in this month's NHL Entry Draft, the Rangers would be adding two dynamic scoring wingers to the team. It will be interesting to see where Kravtsov slots in and who his linemates will be early in the season.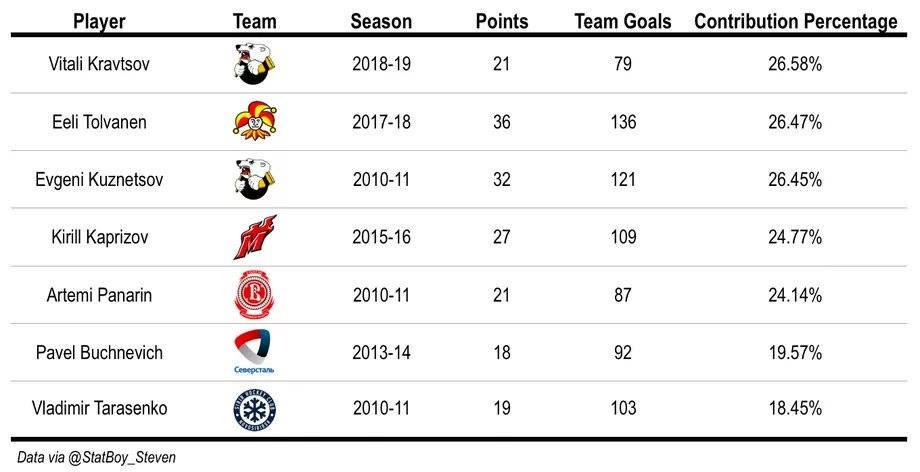 Since the foundation of the Russian Super League (KHL's predecessor) in 1999, the New York Rangers have drafted nine players from Russia. Artem Anisimov, who was drafted in 2006, came over a year later and spent two full seasons in Hartford before being given a chance with the Rangers. Evgeni Grachev who was drafted two years after Anisimov, played in the OHL for a year before making his way to Hartford. He ended up playing just 11 games for the Blueshirts. It's safe to say that Vitali Kravtsov is better than those two were at the same age. With the way he has played, not only for Traktor Chelyabinsk but also for the Russian U20 team, Kravtsov's name was topping Craig Button's list of NHL affiliated prospects this January. Kravtsov played both left wing and right wing this past season and I looked at his production for both positions. Kravtsov can do damage regardless of where he is positioned.
The future is bright and this summer will be one of the most exciting ones for Ranger fans. Vitali Kravtsov is one of the many reasons Ranger fans should be excited for this coming season.