A Look Back On Rangers Opening Nights Over The Last 25 Years
On October 4th, 2018, the curtain will rise on another New York Rangers season as the Blueshirts will host the formidable Stanley Cup contenders, the Nashville Predators. This will be the 92nd season for the Rangers, and their 50th at the newest location of Madison Square Garden, or Garden IV if you will. For me personally, I am blessed to say that this will be the 26th straight home opener in which I am fortunate enough to have been in attendance. It all started back in October of 1992 when I heard an advertisement on the radio that there were still tickets available to that year's Rangers home opener against the Hartford Whalers. I was able to convince my over-protective Jewish mother to let me take the train into Manhattan (I was 17 at the time and going to the City was not something she was fond of). I hustled to the nearest Ticketmaster location on Long Island and, sure enough, I scored tickets to that night's game. So exciting!
It was a fantastic evening. The Rangers trounced the Whalers by the final score of 6-2, and the contest included several fights including a scrap between goalies. During a melee, Whaler net-minder Sean Burke tried to lasso Rangers defenseman Brian Leetch. Upon seeing his teammate and good buddy under duress, Rangers goalie Mike Richter darted towards the mass of humanity and grabbed the much larger Burke and away they went. Also that evening, before the game, the Rangers raised banners from the 1991-1992 season in which the team won the Patrick Division and President's Trophy. This was certainly one of those seminal experiences that one never forgets. Little did I know at the time that I would be at every single Garden opening night from there on out. As I reflect and reminisce, some of the more memorable and noteworthy home openers pop into my mind. I won't and can't list them all, but there certainly are a few occasions that stand out above the rest.
October 6th, 1996: Wayne Gretzky's First Home Game as a Ranger: It isn't every day that the hands-down best player to ever play a particular sport is wearing your team's colors. Gretzky may not have been the 200 points a year dynamo he was in the 1980s with the Oilers, but still, seeing him introduced wearing that red, white and blue uniform of my beloved hockey team was pretty darn cool.
October 11th, 2000: Mark Messier's Return: After a three-year self-imposed exile in Vancouver, Mark Messier returned to the Rangers and reclaimed his captaincy. The greatest leader in NHL history, and the man who slew the 1940 monster was back where he belonged, in New York. All of us 18,200 fans welcomed back the "Messiah" with open arms, a rousing applause and a thunderous cheer.
October 7th, 2001: First Regular Season Sporting Event Played in Manhattan After 9/11: It was an emotional evening, to say the least. New York City and its inhabitants were still reeling after the horrific events on that horrible September day. Who could ever forget Mark Messier receiving the fireman's helmet of the heroic chief, Ray Downey, who lost his life on 9/11? Us New Yorkers are well aware of the impact sports had in helping the City heel after the tragic events downtown and this particular Rangers home opener certainly should be included with the Mike Piazza home run and the three thrilling World Series games at Yankee Stadium.
October 6th, 2005: The NHL Reopens For Business After Losing an Entire Season: This opener is memorable for me for two reasons. The first reason is the amount of venom and vitriol I spewed at the players for letting an entire season get washed away because of greed and stupidity. I had an equal amount of angst towards the owners, but they were nowhere to be found. They were safe and sound in their luxury boxes. The players were all right there in front of me on the ice and I let 'em have it. Second, it was the first time that Henrik Lundqvist would suit up and skate in front of the Garden crowd. Lundqvist did not play, he was the back up to Kevin Weeks. But, the fact remains that a star was soon to be born on that early October evening.
January 20th, 1995: The Stanley Cup Banner Gets Raised:
There is a bit of a backstory with this one so please indulge me for a minute…
When the Rangers announced tickets were going on sale in September of 1994 for the upcoming season, I made up my mind that I was going to do everything possible to be in the building for the banner raising ceremony. I figured I'd take the train into Manhattan and get to the box office at 8 am and when the ticket booths opened at 9 am, I truly believed I'd be the first person on line and I would get the best seats in the house.
I decided to pull an allnighter so I wouldn't oversleep and miss my train. At some point in the middle of the night, someone called up WFAN from this new-fangled gadget called a cellular telephone and said that he and about 100 other Rangers fans were already lined up outside the Garden waiting to get tickets for opening night. I shot up out of my bed, screamed a couple of expletives and grabbed the train schedule to see when the next train was coming. I showered, threw on some nearby clothes and ran over to my local Long Island Railroad platform. I arrived at the Garden around 6 am. Security guards were handing out numbered bracelets and my number was 156.
I was so bummed. I knew immediately that I had no chance to score tickets to the opener. There were limited tickets available, to begin with. There was just no way any inventory would be remaining by the time I arrived at the teller's booth. Sure enough, shortly after 9 am, it was announced to the sea of Ranger fans that opening night was in fact sold out. Several fans actually walked off the line in sheer disgust upon hearing the upsetting news. I figured I'd stay and get tickets to the other games I had on my list.
I finally made my way to the ticket booth, bought the tickets for my desired games, and headed towards Penn Station to catch my train back to Long Island completely dejected. As I was walking down the stairs right outside the Penn Station entrance, a very unscrupulous looking fellow comes up to me and starts a conversation that went like this…
Unscrupulous Looking Fellow: Hey man, did you get opening night tickets?
Me: Nah, they were sold out before I had the chance
ULF: Well, I gotta run but I have one extra ticket. It's yours for $50 if you want it
Me: What is the face value?
ULF: $35
Me: Scalping? You know scalping is illegal. You're not a cop right?
ULF: No, I'm not a cop. Do you want the ticket or not?
Me: You know you can't arrest me once you say you're not a cop!
ULF: I'm not a cop! Either give me $50 or I will find someone else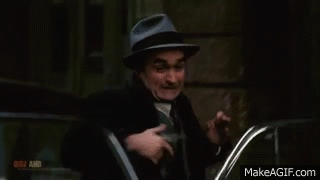 So, in a scene that was eerily reminiscent from the iconic movie, The Godfather, when Fredo was fumbling his gun while his father was being shot, I hastily grab my wallet out of my back pocket and I dropped it. I pick it back up only to see that my hands were shaking. Between the shock of scoring an opening night ticket and the fear of doing something illegal, I was a complete mess. My trembling hands gave this fellow his $50, he gave me the ticket and we went our separate ways and that is how I was able to be at the Stanley Cup banner-raising ceremony.
The ceremony was simply incredible. There really are no adjectives that can even come close to accurately describing that evening. I was very lucky to have been in the right place at the right time, walking towards Penn Station and catching the eye of someone looking to sell a ticket. I am also very fortunate to be able to attend each and every home opener since and I can only hope that one day I will see another Stanley Cup banner-raising ceremony.