How I Met Your Rangers Prospect: Starring Stat Boy Steven and Vitali Kravtsov
First things first, a quick introduction. I am 34 years old, grew up in the Netherlands, lived in South Africa and moved to Austria two years ago for work. I have been a New York Rangers fan ever since the early 90s. Following them as a kid in Europe consisted of reading newspapers at the international bookstore in The Hague, and later on watching streams at 1 AM.
Since I moved to Vienna in 2017, I am in a position to travel a lot more. I fly to the Czech Republic, Finland and Sweden regularly for work, and it gives me the opportunity to follow our prospects around. I've been to Turku for Patrik Virta and Tarmo Reunanen, St Petersburg for Igor Shestyorkin and Yegor Rykov, Liberec for Dominik Lakatos, and Goteborg for Lias Andersson.
But June 2018 was the start of a new adventure. I've been watching KHL games for years and was intrigued by Vitali Kravtsov early on. I had long conversations with other fans about him, when he was still ranked as a late first-rounder. Closer to the draft, he was then projected as a mid first-round pick. I wasn't hiding my hopes of the Rangers drafting him at ninth overall, despite the majority of the fanbase wanting Oliver Wahlstrom. I decided to fly to Dallas and attend the draft with the Rangers having three picks in the first round. If I was ever making the trip for a draft, this was going to be the year. When Gordie Clark announced the pick, I was ecstatic. I was screaming, yelling, cheering. I couldn't believe my luck. My team drafted my player, with me in the building. That just strengthened my belief that Kravtsov was going to be that prospect I follow for years to come.
A few months passed, and I watched Kravtsov start his season in the KHL with some strong games alongside new linemates in Anton Glinkin and Ryan Stoa. He managed to put together some highlight reel moments and my fascination with the kid, which was already sky high, grew even further. Traktor had a game scheduled in Helsinki to take on Jokerit. Having been to Hartwall Arena twice before, I knew exactly where I wanted to sit. I booked tickets online, right behind the bench and hopped on a plane from Vienna to Helsinki for the day. I brought a sign with me that said "I flew all the way from Vienna just to see Vitali Kravtsov" in Russian. I get to the arena, walk up to my seat and a group of Russians notice me and ask for a photo with the sign. Off to a good start, I thought. This is fun! The teams come out for warmups, and after a few minutes, Kravtsov looks over, points at me and waves. I felt like a kid, so happy. You have to understand, growing up in Europe, I never had these opportunities as a kid. I never was able to go to a game and see my favorite players up close. I never had a player toss me a puck. There simply was no hockey where I grew up. Kravtsov noticing me was already worth it.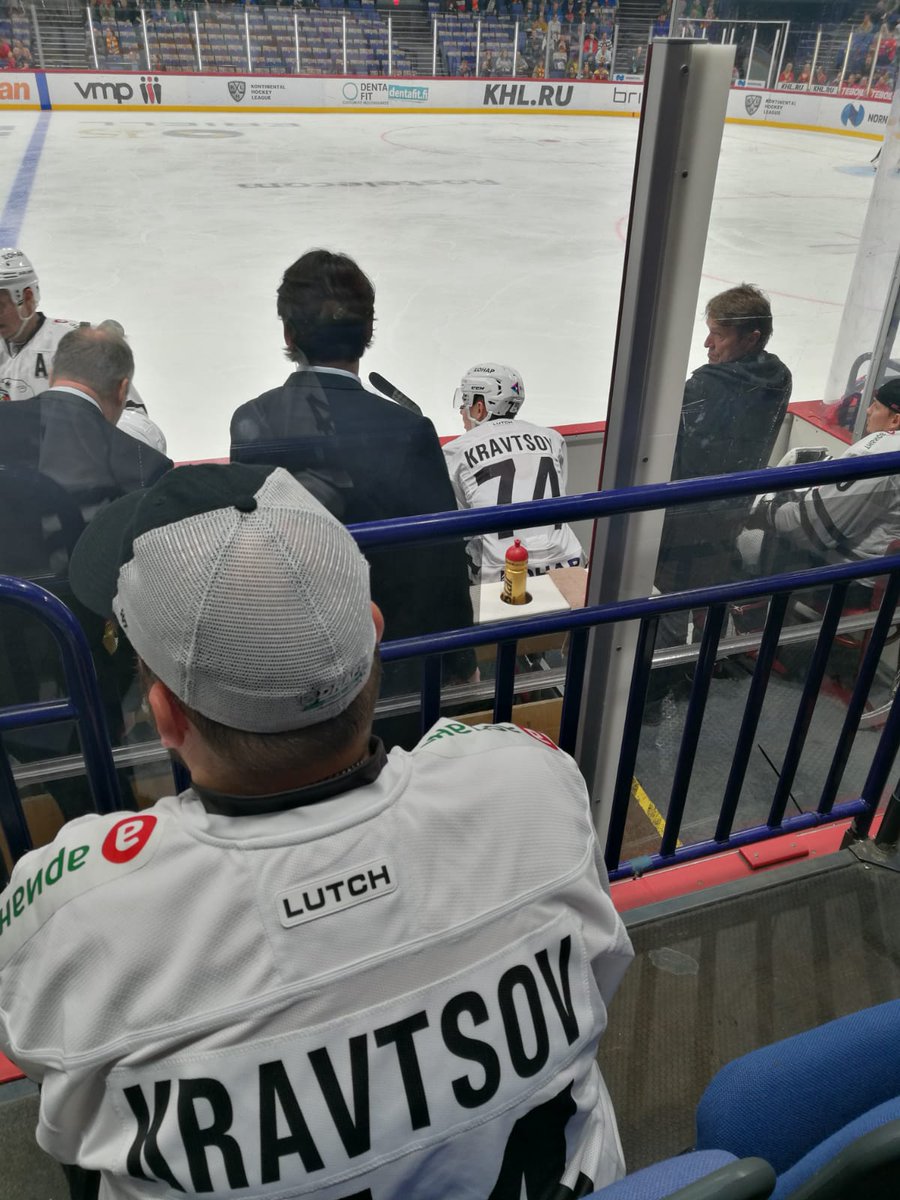 Near the end of the game, a Russian gentleman approached me and asks me how I'm doing. We start a conversation, with just three minutes to go in the game, when he says "I work with the team, and Vitali said he loves your sign. Would you like to meet him after the game?" to which my response was "eh… Yeah. I think so". I couldn't believe it. The team representative then followed up by saying "When the game is over, pay attention because Vitali wants to give you his stick once he skates off the ice." And here I was; 34-year-old Rangers fan excited like a kid who gets to open a Christmas present. Vitali is giving me his stick?! I couldn't believe what was happening. I followed the representative to the locker room where I was waiting, when he asks me if I want to do a short interview for their TV station. Me? On Russian TV? What is going on? I said yes, of course. Nervous as I am, I see Vitali approach me to shake my hand, and we start a short conversation. I can see he is nervous as well. 18-years-old, and this guy in his 30s flies across Europe to see you? That doesn't happen every day. I asked him some questions, most of them not really worth mentioning, except one.

I have always been a numbers guy. I guess that's why my Twitter feed is 95% stats. I want to know the story behind a player's jersey number. Jaromir Jagr wears 68 because of the Prague Spring. Petr Nedved wore 93 which is the year he was granted Canadian citizenship after defecting from Czechoslovakia in the late 80s. Those stories intrigue me. I asked Vitali why he uses number 74. "License plates" was the short answer. I asked him to elaborate and he explained to me how every oblast (region) in Russia has its own two or three-digit code on license plates. The Chelyabinsk region has number 74. When Vitali was younger, he moved from Vladivostok to Chelyabinsk with his mom. He has referred to Chelyabinsk as his hockey hometown while Vladivostok still being his home. His dad still lives and works in Vladivostok. I hope he sticks to number 74 when he moves to New York this summer.
But here I was, in Helsinki. Talking to my favorite prospect. A kid I've followed for well over a year at that point already. I saw him get drafted by my team in Dallas, and I was standing next to him. Talking to him. He signed the stick he just gave me. It was an unforgettable experience. Two days later, I was approached by someone on Twitter. A Russian Traktor fan who sent me a link to a Youtube video and there it was. A 2 minute video about my trip to Helsinki. They followed me during the game with their cameras and turned it into an actual video.
Three months later, I was in Vancouver visiting friends for the holidays. I was again wearing my Kravtsov jersey and had my sign with me. I had tickets to the Russia-Denmark game and was waiting at a Starbucks one block from Rogers Arena for a friend, when a woman approached me, and asked if she can take a photo of me and her dad who is also wearing a Kravtsov jersey. She tells me her dad recognized me from my jersey. Not thinking any further, I agree and we pose for a photo with my sign. After the photo, he says "Instagram?" and shows me his phone. If I want to follow him on Instagram. Sure, why not? And he shows me the video from my trip to Helsinki on his Instagram! That's how he recognized me. He barely speaks English and his daughter had to translate everything, but I asked "How did you become fans of Vitali?" to which she replies "I am Vitali's sister, this is his father." My friend, who had arrived while we were taking photos, couldn't stop laughing. I didn't realize it until she pointed it out. And then it dawned on me. My favorite player's family recognized me. We spoke a bit more, they even bought me a coffee and then we headed to the arena for the game.
Since the draft in June, I have now seen Vitali Kravtsov five times. Helsinki in September, Hodonin in October (u20 Four Nations), Vancouver in December, and Riga and Bratislava in January. Once he moves to the NHL, I will definitely try to fly over for his first NHL game. What can I say? Vitali is my guy. I already met his family so you could say things are getting pretty serious.
Editor's Note: All photos courtesy of Steven Voogel