Imagining a Rangers rebuild centered around potential #1 pick, Jack Hughes
An elite number one center. Every team needs one to win the Stanley Cup. A player that can drive the offense, take over a game and take all the important faceoffs. A player that knows what play needs to be made and can see the ice like no one else on his team. A player that can control the middle of the ice, push defenders back, and make goalies second guess themselves.
The Maple Leafs have Auston Matthews, the Edmonton Oilers have Connor McDavid. The Dallas Stars have Tyler Seguin. The Tampa Bay Lightning have Steven Stamkos. The New York Rangers need Jack Hughes.

Before we get into the stats, the nitty gritty, and everything else, there is one simple fact that has to be known: Hughes is a franchise-altering talent. This rebuild or whatever you want to call it would receive an immediate shot in the arm and acquiring Hughes would put the Rangers on the fast track to ending the rebuild and contending for a Stanley Cup again. The Rangers have not had a dynamic number one center since Mark Messier graced The Garden ice with his play. It's time the Rangers had someone like that again and Hughes is that player. And statistically speaking, there are few that can compare.

Patrick Kane and Auston Matthews are two of the NHL's biggest superstars. Clayton Keller is a budding superstar in the league. All three played for the U.S. National Development Program (USNTDP) during their younger years. When Kane played for the USNTDP, he put up 68 points in 43 games. Pretty good point-pace, but Keller and Matthews would blow that out of the water. Keller would put up 130 points in 78 games and Matthews would put up 134 points in 80 games.
Hughes last season put up 116 points in 60 games split between the U17 team and U18 team, and, this season, he already has 48 points in 25 games. Hughes ranks third all-time in single-season USNTDP scoring just behind Matthews and Keller and he has every opportunity to possibly break their records this year. Kane and Matthews are franchise altering talents and Keller looks like he is going to be a special player down in Arizona. Hughes has the stats that show he can be a franchise altering center.

So you might be saying that stats can be misleading. Sometimes that can be the case as we've seen players scorch junior hockey and burn out when they get to the NHL. To that I would say you need to watch this kid play. Below, we are going to take a look at some videos and analyze what Hughes can do with the puck, his skating ability and just what he does that makes him a lock for first overall in the draft in June. These videos are not the shortest but I strongly suggest watching them through to fully grasp what this kid can do.
Remember. Jack Hughes did all that in that video at 16 years of age, in a U18 tournament. That is absolutely mind-boggling. Now to break down what Hughes is all about: his ability to see the ice, his skating ability and his ability to quarterback the power-play.

He sees the ice at a level not many players can. Using that video as evidence, we can see he essentially has eyes in the back of his head. He always knows where his linemates are at all times and, in this case Oliver Wahlstrom and Joel Farabee, sets them up beautifully in the offensive zone. He doesn't take any unnecessary chances and rarely makes a mistake with the puck on his stick. He is methodical, his passes have great precision and he isn't afraid to use his quick release to score some goals himself. Hughes is a fantastic playmaker but goalies beware, he knows how to score and he isn't afraid to show off his shot.

Having a center that sees the ice as Hughes does will be invaluable if the Rangers have the opportunity to select him. Imagine Hughes setting up Vitali Kravtsov next season? Imagine Hughes with Kreider on his wing? Guys like Kreider, Buchnevich, and Zuccarello, and just about every forward on this current Rangers team, has never gotten the chance to play with a center with the on-ice vision of Hughes and you can be sure they would all benefit from having a center that could find them anywhere on the ice. Next, we take a look at the skating ability of Hughes.

Elusive is the best way to describe Hughes' skating style. You simply can't check him if you can't catch him or figure out what he's going to do next. In the video, you can see Hughes himself is never stationary; he's never waiting around for something to happen, he makes it happen. Being a great skater is essential in today's NHL. No longer can you get by in the league simply on puck skills; you need to be able to get around the ice quick and with poise. Hughes checks off those boxes. Dylan Strome is a prime example of why you need to know how to skate. He lit the OHL on fire when he played for the Erie Otters but he hasn't translated that success to the NHL because of his subpar skating. Prime skating ability is essential.

High on-ice IQ and Hughes' skating ability combine to make someone who is deadly on the power-play as well. He always seems to find the open man, and with special teams being extremely important, you want a player that can go out there and control it. Hughes would immediately make an impact on a Rangers power-play that could use some help. Hughes on a power-play unit with Kreider in front of the net, Zibanejad and Kravtsov on the walls and him patrolling the middle of the ice would be something to behold next season. Now we take a look at what Hughes has done this season for the USNTDP.

More of the same right? Well, not exactly. With Wahlstrom and Farabee now in the NCAA, Hughes it seems has to do a bit more on his own and that's ok. Cole Caufield is more than equipped to be a running mate for Hughes over the course of this season.

Hughes's skating and IQ are shown off in those two videos in spades, but one thing you may have noticed is, yes, his finishing needs some work. That will come in time as he shoots the puck more. One of the knocks on Hughes has been his size but please, I don't think Brad Marchand, Johnny Gaudreau or Mitch Marner have any issues playing in today's NHL. Hughes won't either, and remember, he is still only 17 and will have time to fill out his 5'10" frame. Hughes is a bonafide elite number one center prospect. So say the Rangers do get to draft him, where does he fit in the lineup and what will some line combos look like?
For starters, even Auston Matthews didn't start his rookie year on the top-line. He was eased into the role as the season went on. Hughes will be eased in the same way. Remember, playing center in the NHL is tough and it comes with a lot of defensive responsibility also. David Quinn won't immediately throw Hughes into the fire but rather let him grow in the NHL before he takes on the role he is primed to play.

Projected 2019-2020 New York Rangers Forward Lineup

Chytil – Zibanejad – Kravtsov
Kreider – Hughes – Buchnevich
Namestnikov – Andersson – Vesey
Fast – Howden – Nieves
You'll notice that both Kevin Hayes and Mats Zuccarello are absent from this team and that is because I don't think either survives this season with the team. Hughes slots in on the second line here and has two skilled forwards to work with. Kreider gives Hughes a missile of a winger to play with and Buchnevich gives Hughes a creative presence on his right side. I could definitely see this trio being experimented with during preseason and into the season. Of course, once Hughes' progress comes along he will for sure be moved up to the first line. Let's take a look at the power-play.

Projected 2019-2020 New York Rangers 1st Power-Play Unit

Kreider – Hughes – Kravtsov

Zibanejad – Shattenkirk
This power-play has size, skill, power, and creativity. Zibanejad unleashes his rockets from the wall, Kravtsov gets to use his size and skill from the right side, Kreider camps the front of the net, Shattenkirk patrols the point for a shot and Hughes controls it all from the center of the ice. This would be something spectacular to watch and will make Rangers fans extremely happy.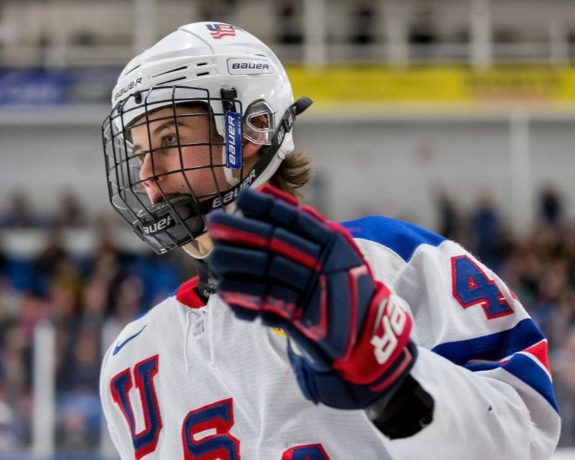 Hughes is a talent the Rangers so desperately need. Vitali Kravtsov won't be able to do it all himself and to have a one-two punch of Hughes and Zibanejad down the middle would be the start of pushing this team back to cup contention. As good as Mika Zibanejad is, his ceiling is nowhere close to that of Jack Hughes. Having Zibanejad as a second line center would be the proper place for him on a Stanley Cup contending Rangers squad. Combine Hughes' world-class talent with the likes of Chris Kreider, Pavel Buchnevich, Vitali Kravtsov and eventually guys like K'Andre Miller and Libor Hajek on the blue-line, and you can start to see just how good this team could be just a few years down the line. Jack Hughes is an offensive wunderkind, and yes, the Rangers won't be immediate cup contenders but acquiring a player like him gives this Rangers team their best shot at another trip down the Canyon of Heroes.
I'll end with some words from Steve Kournianos, the Draft Analyst:

Sporting News
Thank you to Hockey Prospects Center for the videos! Check out their channel here.