Rangers EU prospects update
Let's start in Russia. Yegor Rykov has been called up to the Russia Olympic team (B-team) to play 2 games against Belarus in Minsk this weekend. Rykov and his team Sochi were eliminated in the play offs early and is still under contract until April 30th. This is the 2nd time Rykov is called up to the B-team after playing for them in the Kaufland Cup in Bratislava in early February.
Igor Shestyorkin has gotten a chance in goal for his team in the conference finals. SKA takes on CSKA in a "battle of the armies". Hellberg played game 1 which resulted in a 2-1 loss where CSKA scored twice on just 12 shots. Shestyorkin started game 2 but he could not prevent his team from going down again, this time with a 3-1 loss. The star of the series so far has been Islanders prospect Ilya Sorokin who saved 61 of 63 shots in the first two games.
In Sweden, 3 of our prospects played but there was good news for the 4th. Nils Lundkvist is back in the Luleå line-up after being eased back into hockey. When Lundkvist suffered an ankle injury a month ago, the timetable for his return was always going to be the play offs. After playing with the u20 team in the SuperElit playoffs, putting up 4 points in 2 games, he is now back with the senior team.
The 2nd of our 3 Swedish D-prospects, Calle Själin, is still recovering from a concussion. His team Leksands IF is close to winning promotion to the SHL. After qualifying for the playoff against AIK, where they beat the regular season champions 2-1 and 7-2, they face Mora in a best-of-7 to determine who will play in the SHL next season. After a 3-5 win in Mora in game 1 and a 5-3 win in Leksand in game 2, Själin's team has a 2-0 lead in the series.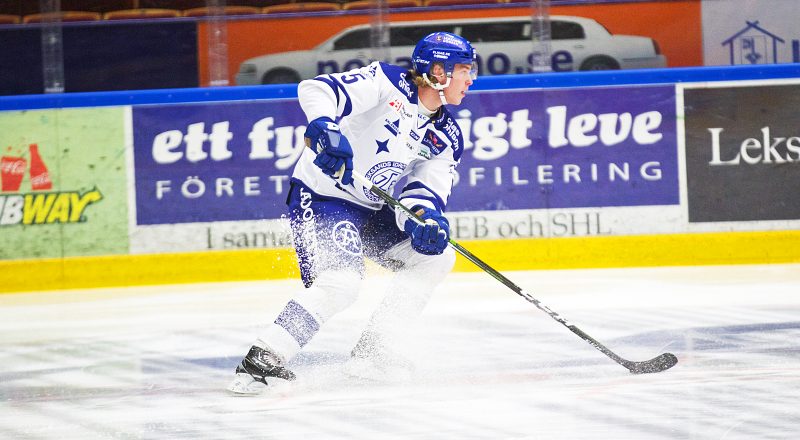 Jakob Ragnarsson and his team Almtuna are fighting against relegation in a round-robin competition with Vita Hästen and 3 teams from HockeyEttan (3rd level): Kristianstad, Hudiksvall, Tranås and Boden. Halfway through, Almtuna is in 3rd place.
Olof Lindbom played all 3 games for Djurgårdens u20 as they eliminated Karlskrona in the quarter finals. In those 3 games, he stopped 86 of 93 for a .925 sv%. In the semi finals of the SuperElit playoffs they take on Linköping with the first game on Saturday the 6th of April.
For our 2 Finnish prospects, the season is over. Tarmo Reunanen and Lukko lost 4-0 to 2017 champions Tappara, while Pajuniemi and TPS were no match for HPK. Reunanen finished his post-season with 1 goal and 4 assists in 6 games, while having 38 shots on goal, which is insanely high for a defenseman.