Rangers' Gallant on Kaapo Kakko scratch: 'Trying to win a hockey game'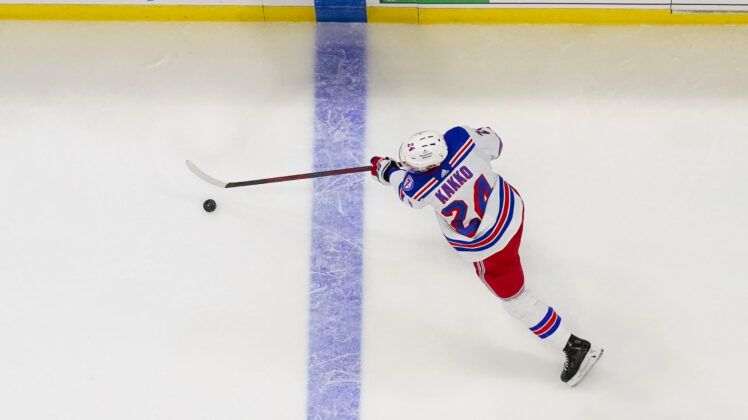 Jan 21, 2022; Raleigh, North Carolina, USA; New York Rangers right wing Kaapo Kakko (24) skates with the puck against the Carolina Hurricanes during the second period at PNC Arena. Mandatory Credit: James Guillory-USA TODAY Sports
[sendtonews key="peKAXibZ" type="player"]
The New York Rangers are conducting their breakup day talks with the media. Of course, the main topic on everyone's mind was focused on the Kaapo Kakko scratch in Game 6 against the Tampa Bay Lightning?
"Trying to win a hockey game. Just dressing my lineup," Gerard Gallant said on the team's YouTube Channel. "When we sit down and talk about our lineup that's what we do. We love the kid, he's a good young player but we thought that was the best lineup to win that game."
The controversy went into overdrive when Ryan Strome, who was laboring through a lower-body injury could not finish the contest. That made the decision to dress rarely used Dryden Hunt for the fourth line over Kakko extremely perplexing.
"It's not about his game. It's about the team game and the lineup," Gallant added. "We had some game-time decision so that'S how we made it up. We weren't sure what the lineup was going to be during the warmup."
Rangers love Kaapo Kakko
After the loss, Gallant declined to answer about his decision saying that it wasn't the time to discuss the lineup move.
That led to several days of speculation regarding what the future holds for Kakko, who is an RFA. It's uncertain that Gallant's comments today will quell talks of a trade or offer sheet. That clarity will have to come from President and GM Chris Drury.
Kakko, 21, posted 18 points in 43 games but was on injured list three separate times. For his three-year career, he's managed just 58 points in 157 matches. Without salary arbitration rights, the Rangers have all the leverage. A 2-year bridge deal around $2M AAV is the most likely outcome.
At that cost, he's a cheaper option than trying to re-sign Frank Vatrano to play top six right wing. The 28 year-old is coming off a three-year deal worth $2.53M AAV and should easily fetch over $3.5M on the open market as an unrestricted free agent come July 13.
The only real concern the Rangers have is a potential offer sheet, similar to the big 1-year deal given to Jesperi Kotkaniemi by the Carolina Hurricanes to steal him from the Montreal Canadiens.
That kind of move doesn't come without risk. Kotkaniemi was also extended for 8 years at $4.82M AAV and struggled offensively this season with just 29 points in 66 games. That's a really tough cap hit if Kotkaniemi doesn't start producing better numbers.
Per Mollie Walker of the NY Post, she estimates that number to force the Rangers into not matching an offer sheet to Kakko would be between $4.2 and $6.3 million.
It's for that reason I think Kakko remains with the Rangers.
Also, Gallant dropped a hint when asked if the kid line of Alexis Lafrenière, Filip Chytil, and Kakko are back next season would he keep them together.
"They'll all be back," he said.
UPDATE: Kaapo Kakko says that the scratch has no bearing on contract talks.
NHL News and Rumors