Report: New York Rangers Kaapo Kakko will be out "at least a month"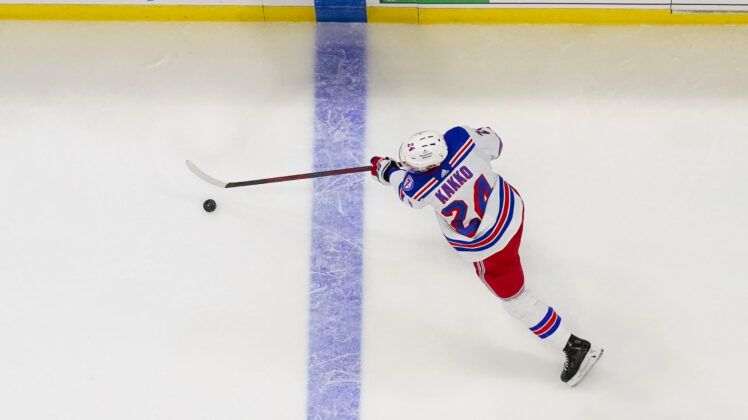 Jan 21, 2022; Raleigh, North Carolina, USA; New York Rangers right wing Kaapo Kakko (24) skates with the puck against the Carolina Hurricanes during the second period at PNC Arena. Mandatory Credit: James Guillory-USA TODAY Sports
Head coach Gerard Gallant met with the media and provided a somber update on Kaapo Kakko's health.
"He's going to be out for awhile," Gallant answered on Kakko's status. "Probably at least a month."
This is a huge blow for the team that has been dealing with issues on right wing since they traded Pavel Buchnevich and lost Sammy Blais to a torn ACL.
Kaapo Kakko out at least a month
When asked if there was any surgery required, Gallant declined to answer and stuck to it being an upper-body issue.
Kakko, 20, last played on January 21 against the Carolina Hurricanes. Television cameras caught Kakko wincing in a lot of pain and discomfort at the end of the second period as he was flexing his shoulder and chest area. He was placed on IR the next day with the hope of returning after the All-Star Break.
"The trainer told me this morning it is going to be a month," Gallant reiterated. "We'll see where it is in three weeks time and go from there."
According to the coach, this injury was an issue prior to the game in Carolina.
"It was nagging him for a week a so," Gallant admitted. "It was aggravating him. He's a good defensive player, he'd just like to score more. We like his game and the way he's going."
Kakko was selected second overall in the 2019 NHL Entry Draft. The 6-3 winger is at a crucial point in his development as he's in his third year. He finished the 2020-21 campaign with 17 points on the strength of 8 goals in 48 games. This season, he has 14 points in 37 games.
He will turn 21 on February 13th.
Gallant provides additional news
The coach talked about the team treating this almost like a mini training camp. He called it a much needed break and is happy they have some practice time before they face the Bruins on February 15.
On Filip Chytil's status, Gallant believes he's ready to get back into action.
"He skated really good today," Gallant said. "He skated really hard. I see him being real close."
The Rangers have six games left to close out the month with four of them at Madison Square Garden.
2/15 vs Boston Bruins (26-16-3) 7 PM ET
2/17 vs Detroit Red Wings (21-21-6) 7 PM ET
2/20 @ Ottawa Senators (16-23-4) 5 PM ET
2/24 vs Washington Capitals (26-14-9) 7 PM ET
2/26 @ Pittsburgh Penguins (29-11-8) 3 PM ET
2/27 vs Vancouver Canucks (21-21-6) 7:30 PM ET
Division leading Carolina has 7 games remaining this month. Second place Penguins also have 7 and fourth place Capitals have 6 left in February.
That makes those head-to-head matchups even more important because it represents a four point swing in the standings.
NHL Rumors
Flames coach snaps over trade talk, and NYR trade deadline approach. Read More.