Rangers prospect Patrik Virta grew up surrounded by hockey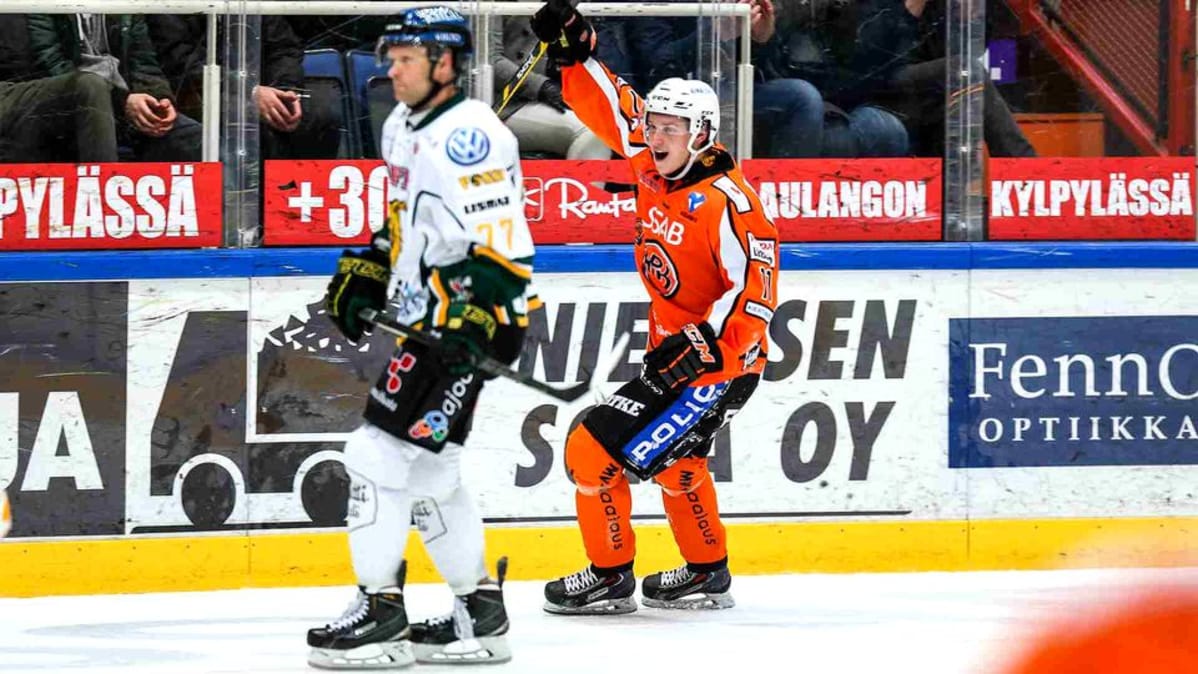 In 2017, the New York Rangers used their seventh-round pick on a player few of us knew at the time. Patrik Virta went undrafted twice before, but teams go with overagers regularly in the later rounds. The philosophy behind it is, that while the ceiling might not be as high, they are already at a level most other seventh-rounders won't even reach.
When Virta was 18, he played for HPK in the Junior A SM-Liiga, putting up 75 points in 43 games in the regular season (second overall in points), and adding another 15 in 12 postseason games. He played five total games for the senior team and scored two goals in the 3-1 win over Ilves on March 6th, his 19th birthday.
With the junior team, Virta reached the final but lost to the team from Turku, TPS. It was a tough loss for HPK but for Virta, his performance in the U20 league at the age of 18 did not go unnoticed. On March 31st of that year, TPS approached Patrik Virta and offered him a contract. It was an honor for Patrik, whose father, Tony, played for TPS between 1997 and 2001, before moving to North America to play in the NHL for the Minnesota Wild and in the AHL for the Houston Aeros (more on that later).
After another draft where his name was not called, Virta started the 2015-16 season in Mestis with TUTO but was recalled after just four games. He made his debut on September 29th in the 4-0 win over KalPa, and a week later he scored his first goal for TPS, when he tied the game in the second period, in a 4-1 win over the now defunct team Espoo Blues. He played a total of 33 games and added another goal and two assists to finish his first full Liiga season with four points, before being loaned to his second Mestis team that season, SaPKo.
The following season, Virta would no longer be bouncing back and forth between leagues. He secured a spot in the line-up and played the entire season for TPS and hit career highs in games played, goals, assists, plus-minus and was one of their better players in the group stage of the Champions Hockey League. With six points in six games, he could not prevent the loss and elimination at the hands of HIFK in the round of 32. In Liiga, TPS finished second in the regular season but lost in the quarterfinals, falling again to HIFK.
Despite the lack of silverware that season, it was a successful year for Virta and, in the summer of 2017, the moment he had waited for was finally there. At the draft in Chicago, which Ranger fans will remember for picking Lias Andersson and Filip Chytil, Virta was picked in the seventh and final round. Traveling to North America again, this time there was no disappointment.
Patrik Virta followed in his father's footsteps by being selected in the draft. His father, Tony, was picked in the fourth-round in 2001, a week before turning 29 when Patrik was only five years old. He played eight games for the Wild in 2001-02, in which he scored two goals and added three assists. Tony Virta is among the eldest players to ever be drafted. For the majority of Tony's time in North America, the Virta family stayed behind in Finland, while Patrik's father was playing for the Houston Aeros. It wasn't a success, and after just two years, Tony returned to Europe to be reunited with his family before moving to Sweden where he finished the season with Södertälje in the Swedish Hockey League. Tony would go on to play another 12 years across three different countries and Patrik was part of that professional hockey environment when his dad returned to Finland to finish his career with Jokerit and HPK in Liiga – before Jokerit moved to the KHL – and before a short stint back in Sweden with Leksands where another Rangers prospect plays this season, Calle Själin.
Which brings me to something I noticed a few months back. The Rangers seem to be targeting players who grew up in a professional hockey environment. The last three years, they have brought into the organization Lias Andersson, Ty Ronning, Vlad Namestnikov, Jacob Ragnarsson, Jimmy Vesey, Patrik Virta, Simon Kjellberg, Vinni Lettieri and Riley Hughes who all have family members with NHL experience. Maybe it's just a coincidence, maybe there's a philosophy behind it. Who knows.
Virta started the 2017-18 season as one of the alternate captains for TPS, and in his final Liiga season, he scored 14 goals again, but this time more than doubled his assists, from 12 to 26. With 40 points in 58 games, there were rumors that Virta would leave TPS, and on May 21st, 2018, Patrik Virta and TPS announced that the player had invoked his KHL clause to leave the team. Rumors about his potential new team were all over the place. The most logical step would be Jokerit. A few days later, Virta announced he had signed a two-year deal with Slovan Bratislava.
It was a logical step for Patrik Virta, and he started off well with Slovan, with a goal in his debut in an otherwise disappointing 5-1 loss to Metallurg Magnitogorsk. Slowly, Virta worked his way up in the line-up and, after three weeks, he was one of their better players. As great as things were on the ice, the same could not be said about Virta's tenure in Bratislava off the ice. The team had financial problems and was struggling to pay the salaries of the players. Near the end of the season, that led to the team only having 15 players for the final game of the season. After another few weeks of uncertainty, Patrik Virta decided to have his contract terminated and on November 1st, he signed a contract with Swedish team Örebro HK, again following in his father's footsteps by playing in Sweden.
I got to see Virta in Bratislava several times, since it's only 40 minutes from Vienna. A perfect opportunity to watch our prospect. He was playing on the top-line near the end of October and you could tell he was one of the players his teammates were looking for when they had the puck on their stick. Slovan could have definitely used them, and I feel it was their loss, not Virta's, that the contract was terminated.
Management in Örebro was delighted to add Virta to the team."We tried to connect with Patrik before the season, so it feels extra fun that we have now managed to get him to us. In Patrik, we get into a center that can also go forward and have the ambition take steps in the career, which we will help him with. He has qualities that will help us produce ahead", said Sports Manager Niklas Johansson, upon Virta's arrival in Sweden. Again, Virta managed to get on the scoresheet in his debut for a new team, adding an assist on his team's only goal in a 2-1 overtime loss to Mora. After a tumultuous 12 months, it seems like Virta finally found his place in Sweden. The last few weeks especially, he has been one of the main contributors for his team as they try to sneak into the playoffs, with five goals and four assists in his last 13 games.
What happens to Virta this summer is difficult to say as it seems there is no clear indication of what happened to his NHL-rights. The rights to players in the KHL do not expire because the KHL and NHL do not have a transfer agreement. The question here is if the two months in the KHL affects his status. Do his rights carry over to 2020 because of this, or will the rights expire this summer? If the latter is the case, the Rangers have one window left to sign Patrik Virta to an entry-level contract. If he does, he will be 23-years-old, but still six years younger than his dad when he signed his ELC.
Today is exactly four years since Virta scored his first goal in pro-hockey. Which reminds me, today is also his birthday. Happy 23rdbirthday Patrik!